EXPIRE
First Vice President – Online Advertising
Publish on Oct 15, 2022 | Viewed 4239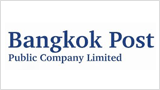 Bangkok Post Public Company Limited
Bangkok Post Public Company Limited publishes and distributes in print and digital media the Bangkok Post, an English-language daily newspaper.
The Company also subsidiaries and a jointly controlled entity publish and distribute the Thai-language editions of Elle, Forbes Thailand.
Read more
Job description
The Bangkok Post, Thailand's leading English-language daily, is looking for self-motived, energetic persons with for the position of
First Vice President – Online Advertising
Main Job Responsibilities
Assist Division Head in terms of Online Advertising.
Create and execute the successful sales strategic plans for Online Advertising.
Manage team of sales staff and set individual sales quotas and goals.
Lead and develop sales representatives.
Oversee the activities and performance of the sales team and advise the sales representatives on ways to improve their sales performance.
Establish training programs and develop motivational material.
Analyze sales statistics gathered by their staffs to determine sales potential and monitor customers' preferences.
Track, collate and interpret sales figures and forecast annual quarterly and monthly sales revenue.
Formulate sales policies and procedures.
Cultivate effective business relationships with executive decision makers in key accounts.
Effectively communicate with top managements and team members in terms of strategies and polices.
Qualification
Job Qualifications
Bachelor's or Master degree in Advertising Sales, marketing, business administration or a relevant field.
Excellent negotiation and leadership skills.
In-depth knowledge of sales techniques and best practices.
Outstanding written and verbal communication skills.
Excellence in Advertising trends and market trends
Good network with advertising agencies or media agencies.
Computer skills: MS Office and related programs.
We offer a competitive salary and benefits to the suitable candidate.
Please send application letters with a detailed resume, recent photograph and work and writing examples to recruit@Bangkokpost.co.th
Back to top