EXPIRE
Graphic Artist
Publish on Dec 24, 2021 | Viewed 9172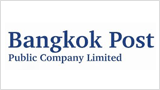 Bangkok Post Public Company Limited
Bangkok Post Public Company Limited publishes and distributes in print and digital media the Bangkok Post, an English-language daily newspaper, Post Today, a Thai-language business daily newspaper.
The Company also subsidiaries and a jointly controlled entity publish and distribute the Thai-language editions of Elle, Forbes Thailand.
Read more
Job description
Please kindly support to post the Graphic Artist position to Bangkok Post Jobs with details as shown below;-
The Bangkok Post, Thailand's leading English-language newspaper, is looking for a
self-motivated, enthusiastic and creative talent for the position of Graphic Artist.
The suitable candidate will be part of a team responsible creating information graphics such as maps, tables, graphs, charts, editorial illustrations and interactive graphics of multimedia.
Qualification
-Thai nationality
-Training in visual art, graphic design or architecture
-Knowledge of Adobe InDesign, illustrator and Photoshop required
-Drawing skill or experience in multi-media a plus
-Knowledge of Web design and digital publishing a plus
-Prior experience in print design with a national or international newspaper or magazine a plus
-Outgoing personality and inquisitive mind
-Fair command of English
-Able to work irregular hours and weekends
-Able to function well under time pressure
We offer competitive salary and benefits to the suitable candidate.
Please submit applications with a resume, recent photo and samples of design work to piradaj@bangkokpost.cot.h, recruit@bangkokpost.co.th,
Back to top