US economy adds 223,000 jobs in June
WASHINGTON - The US economy added a solid 223,000 net new jobs in June, but there was no upward movement on wages, the Labor Department reported Thursday.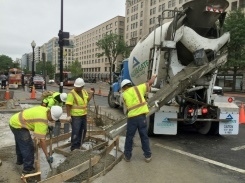 Construction workers pour cement into molds to form curb and gutter June 2, 2015 in Washington, DC. AFP PHOTO / KAREN BLEIER
The unemployment rate fell to 5.3 percent, the lowest level since April 2008.