EXPIRE
News Reporter (Business)
Publish on Oct 6, 2022 | Viewed 3564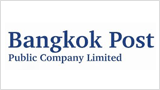 Bangkok Post Public Company Limited
Bangkok Post Public Company Limited publishes and distributes in print and digital media the Bangkok Post, an English-language daily newspaper.
The Company also subsidiaries and a jointly controlled entity publish and distribute the Thai-language editions of Elle, Forbes Thailand.
Read more
Qualification
News Reporter (Business)
Essential qualifications are-
- Age 22-30 years old
- Thai nationality
- University graduate
- Excellent command of spoken and written English and Thai
- Outgoing personality and inquisitive mind
- Ability to work under deadline
- Willingness to travel and work odd hours
- Computer skills, photography and multimedia skills a plus
We offer a competitive salary and benefits to the suitable candidate.
Please send application letters with a detailed resume, recent photograph and work and writing examples to recruit@Bangkokpost.co.th
Back to top