FVP-Digital Business Transformation
Publish on Sep 8, 2022 | Viewed 6356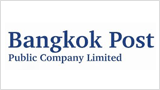 Bangkok Post Public Company Limited
Bangkok Post Public Company Limited publishes and distributes in print and digital media the Bangkok Post, an English-language daily newspaper.
The Company also subsidiaries and a jointly controlled entity publish and distribute the Thai-language editions of Elle, Forbes Thailand.
Read more
Job description
Lead and develop the Digital technology & transformation's strategic planning to achieve business goals for the Company's Digital Business, Ecommerce, Mobile Application, Digital solutions and Omni Channel platforms.
Manage all digital marketing channels of Bangkok Post and Post Today digital (e.g. website, blogs, emails and social media) to ensure brand consistency.
Develop and maintain key client relationships with key accounts through professional and personal networks, market-leading forums and through leadership to build a new business or deepen existing engagements.
Ensure the right technologies and platforms are used efficiently, profitably and securely to ensure alignment with its business goals.
Forecast sales performance trends and act proactively to increase our market segment.
Supervise Digital Technology and Transformation teams to ensure functionality and efficiency.
Other job assignments as deemed appropriate by immediate supervisor.
Qualification
Bachelor's Degree or higher in Information technology or related field.
Have at least 10 years of experience in Technical management and development.
Strong communication, interpersonal and leadership skills, and can work alongside senior management in both business and technology divisions.
Perform and innovate Digital Transformation project for the company.
Excellent organizational and time-management skills.
Hands on experience with complex project management.
Good command of English
We offer a competitive salary and benefits to the suitable candidate.
If you're interested, send your application to recruit@bangkokpost.co.th
Contact
Bangkok Post Public Company Limited
Bangkok Post Public Company Limited
136 Bangkok Post Building, Sunthornkosa Road, Klongtoey, Bangkok 10110
Contact: Human Resources Department
Tel: 02-616-4000 #1822, 1825
Fax: 02-616-4559
Email: recruit@bangkokpost.co.th
Back to top