Asia markets follow US, Europe losses
HONG KONG - Energy companies from Australia to China tumbled as falling commodities prices stoked fears over the global outlook, with Asian stock markets tracking hefty losses in Europe and New York.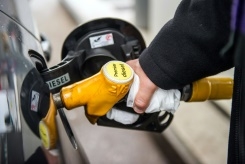 Oil prices have halved since peaking above $100 in June last year, hit by tepid demand in a weak global economy, and a supply glut in the face of near-record output levels
European and US shares ended deep in the red Thursday, with weak earnings reports compounding a slide in the price of oil and other commodities that suggest the world economy is struggling.
The black gold tumbled Thursday after the US Department of Energy said commercial inventories last week surged more than expected, indicating weak demand. That came after a separate report by the American Petroleum Institute Tuesday showed inventories jumped by 6 million barrels.
Prices have halved since peaking above US$100 in June last year, hit by tepid demand in a weak global economy, and a supply glut in the face of near-record output levels.
In Asian trade US benchmark West Texas Intermediate was down 22 cents and Brent was two cents higher. On Thursday WTI ended $1.18 a barrel down and Brent sank $1.75.
Adding to the pain is a growth slowdown in China, the world's biggest energy user, which has also impacted on other commodities such as copper and iron ore.
Among Asian energy firms, Sydney-listed miner BHP Billiton and Rio Tinto gave up almost 2% while Origin was 7% lower.
And in Hong Kong struggling mining giant Glencore tumbled 7% in the afternoon, following a 7.6% slump in its London-listed shares. Sinopec's Shanghai-listed stock lost 2.1% while Inpex in Tokyo shed 1.8%.
The selling put downward pressure on stock markets across the region, with Hong Kong -- which jumped 2.4% Thursday -- and Sydney worst affected. Tokyo and Shanghai pared some early losses but remained stuck in negative territory.
All three main indexes on Wall Street, as well as London, Paris and Frankfurt, ended sharply lower Thursday.
The dollar edged up against its major rivals after several top Federal Reserve officials cautiously hinted at a US interest rate hike at next month's policy meeting, although traders remained wary with global markets still fragile.
However, they mostly also said the central bank should be cautious, while New York Fed President William C. Dudley added that any increases should be minimal, citing still-weak rises in prices.
"After liftoff commences, I expect that the pace of tightening will be quite gradual," he said, according to Bloomberg News.
"In part, that is because monetary policy is not as stimulative as the low level of the federal funds rate might suggest."
Bets on a hike surged -- sending the dollar rocketing -- after data last Friday showed a better-than-forecast jump in new jobs in October and a fall in the unemployment rate to a seven-and-a-half year low.
Key figures at 0700 GMT
Tokyo - Nikkei 225: DOWN 0.5% 19,596.91 (close)
Shanghai - composite: DOWN 1.4% at 3,580.84 (close)
Hong Kong - composite: DOWN 2.3% at 22369.08
Euro/dollar: DOWN at $1.0781 from $1.0814 in New York
Dollar/yen: UP at 122.68 yen from 122.60 yen in New York