After the success of Bonjour French Fair, a well-known French consumers' fair at year-end, the Franco-Thai Chamber of Commerce will launch its first Brand & Career fair entitled "Bonjour Talents" [bɔ̃ʒuʀ talã] on Friday 8th May at the Ballroom of the InterContinental Bangkok Hotel (BTS Chidlom) from 10 am to 8 pm.
Almost 20 leading companies will be present for their recruitment and give information about their company as well as their philosophy on HR Development and expectations towards Thai employees. Moreover, job seekers and students are welcomed to meet the experts at the event in each profession: Sale & Marketing, Engineer, IT, Management, HR, etc. who will share their real experience and give you tips which are not-to-miss. More than 800 people are expected to visit this special one-day job fair.
Peter Cauwelier, President of the Franco-Thai Chamber of Commerce shares his view "The FTCC is there for almost 50 years since its establishment in 1966 to accompany its member in their business endeavors in Thailand. We know that one of the challenges for all is to recruit the right people for the jobs. Bonjour Talents is the new format of Job Fair which aims at bringing companies and potential candidates together for a successful exchange and collaboration. Many French companies are leaders in their sectors in France and in the World but not well-known to Thai people. Today, about 350 French companies in Thailand employs more than 70,000 Thai staff nationwide."
Organised by French Chambers in different countries, Bonjour Talents has had a great success in Japan, Singapore and more recently in Hong Kong last March 2015. "People are not there just to find a job but to understand more in-depth about the real nature of it and how to develop their career in the company. The FTCC is proud to present this new event to Thai people and hope that this will help create more awareness about French companies in Thailand."
Almost twenty French companies and Members of the FTCC joining this event include Michelin, Essilor, Chanel, OGAS Solutions, ParexGroup, JC Decaux, Accor, Glow GDF Suez, Alliance française, Luxellence, Blue Elephant Cooking School & Restaurant Bangkok, Dextra Group, Cofely Services, Ins, MPO Asia, SDV, Tractebel, etc.
Segsarn Trai-Ukos, Country Director of Michelin Siam and FTCC Vice President shares his company's philosophy "Respect people is one of Michelin Core value. It demonstrates through several approach: Learning & Development, Career management, Management Quality, Quality of work life, Attractive Compensation & Benefit and Interesting Job design"
For Accor Group, the world's leader in hotel industry, "Accor is about providing the best guest experience. This guest experience is driven by our employees. Hence, the employee experience makes the difference. At Accor, we are committed to building a proper employee journey - to identify and develop talent".
David Martens, Head of Talent Management of GDS Suez shares that "At GDF SUEZ, we offer you more than 300 business activities in 70 different countries. We expect to discover passionate young people from Thailand interested to join our Group that is more and more present and active in ASEAN and can provide international career opportunities."
Glow Group believes that "The success of the organization depends on its employees. We give high priority in human resources training and development. We recruit talents from the outside while promoting talents from the inside. Our aim is that all employees are well-prepared to respond to challenges of our growing business."
OGAS Solutions, an expert in delivering Technical Assistance services and solutions for the Energy industry will also join Bonjour Talents. Jean-Martial Carpena, its Country Manager says "Our main expectation from Bonjour Talents is to enhance our company exposure in Thailand. We expect to gather about 300 CVs during this event.
As for Tractebel Engineering, "WE DON'T NEED ENGINEERS. We need Engineers driven by passion and eager to contribute to a sustainable future. People who believe in the power of new ideas, sharing, teamwork and relationships. Engineers who are more than engineers. Think you might be one of them? Join us. And let's share our talents"
Dr. Thitiporn Sanguanpiyapan, Executive Director of Luxellence Center, an academic center operated by CP All Public Company Limited with collaboration with IFA, International Fashion Academy Paris will also join Bonjour Talents. "Luxellence Center is Thailand's leading Luxury. It aims to give a unique understanding of what the fashion & luxury industry is about and what differentiates it from other branded-centered industries. This understanding is critical to anyone wanting to lead a successful career in luxury."
When asked whether we need to speak French in order to work with the French companies, Christian Merer, Director of Alliance Française Bangkok says that "French is not the first criteria for French companies to recruit Thai candidates but most of them say that once you are in the company, if you speak French, it will help accelerate your career development in the company. Anyway, you've got more competitive edge if you know more than one foreign language. At Alliance française, we offer various French courses that suit your needs."
Join us at Bonjour Talents on Friday 8 May at InterContinental Bangkok Hotel BTS Chidlom from 10 am to 8 pm. Register at www.bonjourtalents-thailand.com You have a chance to win special prizes!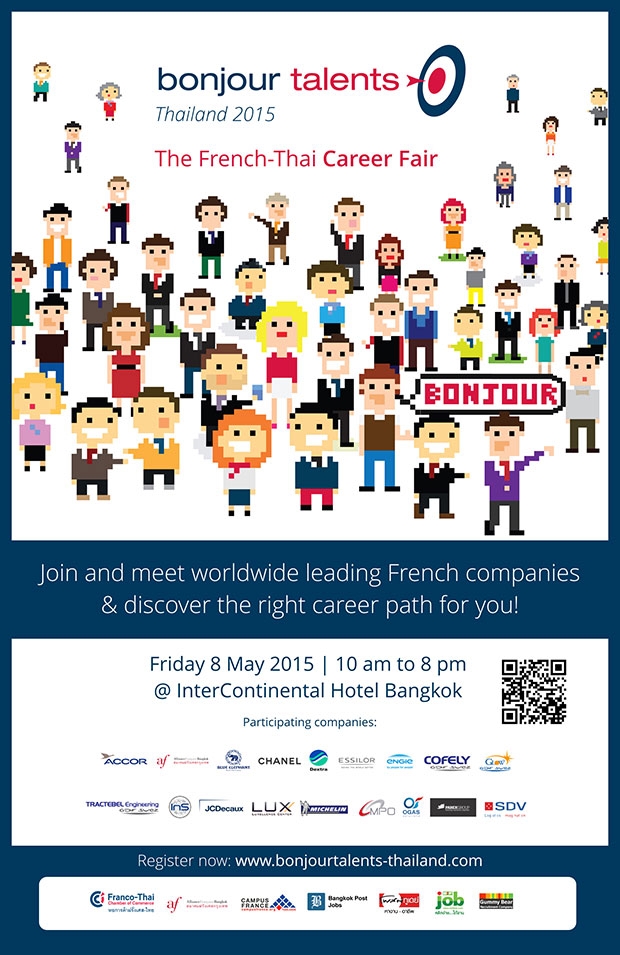 ---
For more information, please contact Sukanya Uerchuchai, Executive Director Franco-Thai Chamber of Commerce: Tel: 02-650-9613-4, sukanya@francothaicc.com