Education & jobs: Harsh need-to-know realities
Published:

Apr 1, 2015 13:38

Writer: Jon Fernquest | 1,551 viewed
Graduates feel once they are university educated, they are entitled to high salaries & air-conditioned offices & refuse to do anything they consider below their self-perceived lofty status. Many cannot find jobs because employers consider them unqualified.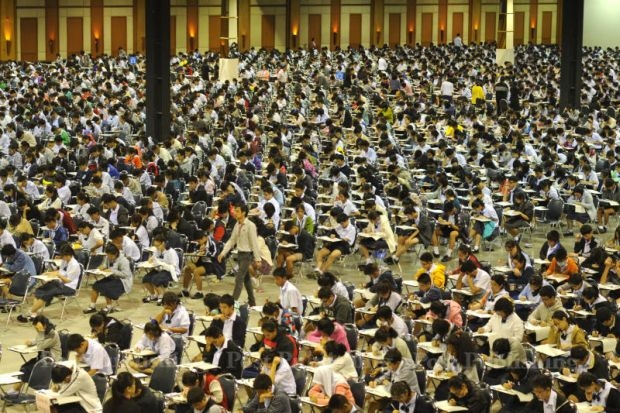 EDUCATION REFORM
We need better quality universities, not new ones
1/04/2015
Abridged version of Sawai Boonma's commentary here

Thailand is said to already have more universities than it needs. With so many institutions offering an ever-expanding list of fields of study, university education is now creating serious problems.

There are already at least 160 institutions - on average two for each province - offering post-secondary education. Many are, of course, located in Bangkok and major provincial centres, leaving some provinces without.

Larger institutions have multiple campuses, also offering off-campus instruction in small towns, where they rent rooms for short periods and send instructors to teach those in the surrounding areas.

This is good business and makes many instructors rich from going from place to place on short-term assignments, often in the evenings or on the weekends. Those with degrees from well-known foreign universities are in great demand and often command premium fees.

However, there are complaints about how low the quality of higher education is.

"Once fully paid, graduation is assured," is the sad reality observed by many.
The standards for graduation are exceedingly low, including at master's and doctoral levels.
So another sad statement is often heard: there are so many doctorate degree holders that one always bumps into some wherever one goes.

Besides the low quality, many fields of instruction are not in the areas the economy needs; some in fact are comical, to say the least. Students spend time and large sums of money - some borrowed - to obtain degrees that offer no prospects of employment after graduation.

Besides wasting precious time and resources, low quality or useless fields of study have given rise to other problems. Graduates feel once they are university educated, they are entitled to high salaries and air-conditioned offices. They refuse to do anything they consider below their self-perceived lofty status. Many cannot find jobs because employers consider them unqualified.

Those who can find some seed money, either from family members or friends, start their own businesses. They are largely under-employed, although they do not count among unemployment statistics. They set up stalls selling clothes, toys and knick-knacks on footpaths, clogging up the streets and being more of a nuisance than convenience. They often go out of business once the seed money runs out, with debt hanging over their heads.

With lofty expectations, graduates who come from rural areas will not go home, although their labour might be needed on the farm.

With most young people refusing to do certain lines of work, employers have resorted to hiring foreigners. This practice has its own problems, including smuggling and maltreatment of workers from neighbouring countries, and of course corruption. In addition, these workers put an extra burden on the country's already over-stretched infrastructure, especially its health services.

Education reform of university education could proceed by reducing both the number of universities and the types of useless degrees.

Sawai Boonma has worked as a development economist for more than two decades. He can be reached at sboonma@msn.com.

http://www.bangkokpost.com/opinion/opinion/514751/we-need-better-quality-universities-not-new-ones