A happy workplace proves to be a successful one
While organisations strive to be profitable, the key question is whether the organisation's success is sustainable in the long run.
Organisations recognised as the best employers not only emphasise profitability but also employee engagement and happiness in the workplace. This is because engaged employees clearly deliver better work performance, which in turn leads to better business results.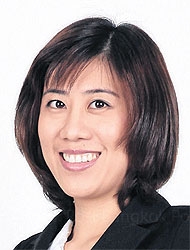 Thaniya: Employee engagement crucial
Our research shows that these leading organisations attain 40% higher growth in profit, have 25% lower employee turnover and fill job positions internally twice as much as other organisations.
What makes an organisation one of the best employers? According to Aon Hewitt's 14 years of ongoing research, the four major factors consistently present are:
High employee engagement: Engaged employees must exhibit three key behaviours: "say, stay and strive". They speak positively about their organisation. They have a strong desire to stay with the organisation. They feel motivated to exert extra effort to meet business goals.
Compelling employer brand: The organisation must be able to deliver a strong employee experience through both internal and external branding, which ranges from delivering promises that the organisation makes to employees to corporate social responsibility.
Effective leadership: Leaders of the organisation must be able to provide a clear business direction, drive good decisions and treat employees as a valued asset.
Performance culture: High-performing companies show a clear alignment between organisational and employee goals. They provide clear rewards and recognition to employees along with growth opportunities aligned with the organisation's needs.
Our research finds that the best employers exhibit high scores in every dimension compared with average organisations. Organisations found to have a low level of employee engagement are at risk of losing 325,000 baht per year in human resource expenses in addition to losing 50% of their average total shareholder return.
The employer's brand is also important because it is the first mental image an employee has of the organisation. Successful organisations use a compelling brand to attract high-performing talent.
Clearly, potential employees do not want to work in organisations with a negative brand reputation. In particular, employees avoid organisations that cannot or will not deliver on promises.
Leaders who only narrowly focus on business and not human management make employees feel unwanted and disengaged, which in turn will drive them to leave the organisation. In organisations that lack a performance culture, employees often face issues such as vague performance evaluation, unfair job promotion, unexplainable rewards and unclear career opportunities.
---
Thaniya Kritsadavorakul is project manager for the Aon Hewitt Best Employers — Thailand 2015 programme. Results will be announced on April 2. For more information, see www.bestemployersasia.com or email bestemployersthailand@aonhewitt.com.