10,000 apply for human paintball bullet tester job
LONDON - Some 10,000 people from around the world have applied to be shot at as a paintball bullet tester, the British company posting the job advert said.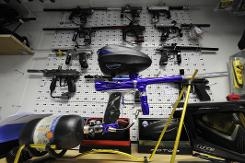 Paintball paraphernalia is on display at a paintball hall in Berlin on May 13, 2009.
UKPaintball, which has more than 60 paintballing venues in Britain, said it was stunned by the response to its search for a "human bullet impact tester".
Candidates from not just Britain, but as far away as United States, Canada and India have applied for the 40,000-pound (2 million baht) a year job testing the impact of paintballs.
"This incredible response is the last thing we expected when we posted the advert," said UKPaintball owner Justin Toohig.
"We couldn't have predicted that so many people in the UK and beyond would want to get shot for a living."
Applicants have cited a range of different skills to prove they were up to the job, including one who said he was fat, so would be easier to hit, he said.
"We've had individuals hoping to secure the job including an ex-army soldier boasting previous experience of guns and weaponry... and an ex-magician's assistant who was once almost shot for real in an illusion that went horribly wrong," Toohig added.
"It's going to be a real struggle attempting to whittle down the thousands of applicants to just one."