Fondly called Dr Tom by his patients, Thumrong Siripoon, MD, is the chief medical officer of Dermaster — Personalized Wellness and Aesthetic Institute (342 Sukhumvit Soi 63, 02-714-4471, www.dermaster-thailand.com, www.fb.com/dermasterthailand). The prominent plastic surgeon specialises in making people pretty thanks to his expertise in various areas of aesthetic medicine. During off-clinic hours, this optimistic aesthetic doctor loves to play guitar and find fresh air out of town.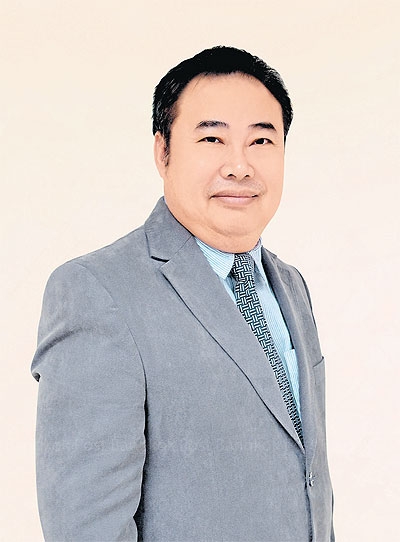 WHAT ARE THE BIGGEST BEAUTY TRENDS RIGHT NOW?
The V-shape face contouring treatment and fat removal have been major hits. With medical aesthetic breakthroughs, beauty can be achieved almost instantly. Patients are now in the know. They do their homework and learn about treatments and equipment before. So when they come to the doctor, they already know what they want. Apart from that, more people are approaching their health holistically. Alternative treatments that help gain balance internally such as detoxification or hormone therapy have also become more popular as they sustain optimal health while, at the same time, enhance physical appearance.
HOW ABOUT STRAIGHT GUYS?
Straight men nowadays have become more and more concerned with how they look, partially because of high professional status. During the last couple of years, we have had a lot more male clients. Their ages vary from 15 to 60. They get the same aesthetic enhancements that women do, such as face lift, facial contouring, anti-ageing treatment, liposuction and detoxification.
HAS SOCIAL MEDIA MADE PEOPLE MORE CONCERNED ABOUT THEIR LOOKS?
Definitely. In this digital age, social and digital media make it easier for everyone to communicate and get themselves up-to-date, especially with new fashion, the latest trends and what's going on in the world.
WHAT'S THE MOST CHALLENGING PART ABOUT BEING AN AESTHETIC SPECIALIST?
The main challenge about my job is to find the right solutions to meet the needs of every patient and to get the results that make them happy. Each patient's needs are different. Thankfully, these days, advancements in medical technology can slow ageing, prolong beauty and give clinically visible results. To me, it is exciting when new innovations come out. With better performance, they increase patient comfort, provide fast procedures and deliver shorter recovery periods. As an aesthetic doctor, it is important to always stay updated and learn about the latest advancements and technologies in order to find the right choice for patients.
ARE SIMPLE WELLNESS ROUTINES — SUCH AS EATING HEALTHILY, DRINKING LOTS OF WATER, GETTING ENOUGH SLEEP — ENOUGH TO GET A GOOD LOOK?
Absolutely. Those habits are good for health and contribute to longevity. However, the holistic and anti-ageing practice plays an important role in preventive medicine to help protect, maintain and improve well-being. Stem cell therapy, for instance, is applied to prevent diseases as well as to improve overall physical condition.
WHAT ARE YOUR VIEWS ON "INNER BEAUTY"?
Inner beauty is the essence of good, balanced health. It helps blood circulation and boosts lymphatic flow. If there are health problems or stressful conditions inside, it shows externally on your face through sallow skin or dull complexion. An unhealthy lifestyle can lead to diseases like high blood pressure and diabetes.
ANY TIPS FOR FEELING GOOD ABOUT YOURSELF?
Moderation in all things. Avoid extremes in everything — in daily life, your beauty routine. Don't follow others. Just be yourself.