Singapore jobs site favours locals
Singapore on Monday launched a jobs website favouring citizens and permanent residents in response to mounting complaints that foreigners are stealing professional jobs from locals.
The Workforce Development Agency said the "Jobs Bank" website will match employment opportunities with profiles of locals seeking employment or a change of jobs.
From Aug 1, companies needing professional workers must advertise on the site for at least 14 days before they can seek an employment pass for a foreigner from the Ministry of Manpower. This will allow Singaporeans to take first crack at the job openings.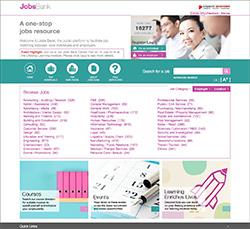 Singapore's new Jobs Bank website will host jobs available only for nationals and permanent residents to combat public pressure about foreigners stealing locals' jobs.
Citizens and permanent residents looking for employment must create an account on the jobs bank that will allow them to apply for vacancies.
The website offers vacancies in sectors such as accounting, banking, engineering, science and sales. More than 16,000 positions are currently available, about half of them for professionals, managers and executives.
The ruling People's Action Party has moved to curb the entry of foreign workers in the face of complaints from citizens they are competing for jobs, public housing, health care services and space in public transport.
Singaporeans make up just over 60% of the 5.4 million population, with a low fertility rate forcing the government to rely heavily on guest workers.
The influx of foreign workers has sparked a rise in anti-immigrant sentiment. Abusive comments against foreigners are usually posted on anonymously-run local websites and Facebook pages.