In 1972, the company now called North Star Logistics began transporting goods with a focus on the South. Forty years on, the firm has undergone rebranding and now delivers packages to all corners of Thailand.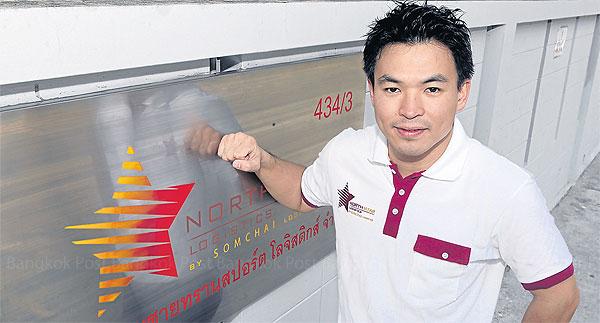 Pichetpol wants North Star to be ready for the AEC
Formerly known as Somchai Transport and Logistics, North Star did an internal restructuring to modernise the company and ready itself for the Asean Economic Community (AEC) in late 2015.
"The rebranding was primarily motivated by the coming AEC because we believe that once it takes place it will allow more flows of goods in mainland Southeast Asia as well as China," chief executive Pichetpol Thongchatchaval, 33, told the Bangkok Post.
"So we want to be ready for that. We also want our name to be easily remembered for our foreign clients."
Originally a political science graduate of Chulalongkorn University, Mr Pichetpol later obtained his MBA from Baruch College in New York City. He got started in his family's forestry business during his third year at Chulalongkorn in 1997.
"Somchai Transport was actually a family business of my wife," he said. "Since she is the only child, her family needed someone to succeed the business, as they have other business interests as well, so I came in to help."
Mr Pichetpol joined in 2011, when the rebranding began.
The initiative, he said, was about restructuring the company so it could assess performance and identify strategies for the future.
"Domestically there are a lot of logistics companies, but what sets us apart is our network that covers the country. Most usually focus on specific areas such as Chiang Mai or Khon Kaen, and that makes us the better choice, with focuses on regions such as the North or the Northeast."
Somchai Transport was set up in 1972 with 30 employees at the head office and provincial branches. The company shipped consumer goods by train to southern Thailand.
In 1974, Somchai was appointed by the State Railway of Thailand as an official representative and allocated 60 carriages for the job. The company grew to 40 employees, four delivery vehicles and revenue of 2 million baht.
Today, North Star's network covers the entire country with 54 offices and warehouses in all provinces. It has more than 600 employees and 250 vehicles including 10-wheelers, six-wheelers and one-tonne pickup trucks.
From the distribution centre in the Phutthamonthon Road area, goods can be delivered anywhere in the country within three days with a drop-off time before noon.
North Star jobs are mainly business-to-business between modern trade operators such as Big C, Makro, Tesco Lotus, HomePro and 7-Eleven. The company delivers electronics, garments, TV sets, appliances, consumables and other goods.
"We work as a partner with our clients, meaning we usually grow as their business grows; some have been with us since they were only a small factory, and now they have become big players in the business they are operating in," Mr Pichetpol said.
"This is what makes us different from multinational companies. I mean, this closeness and how we take care of customers. We have good governance and price our services with fairness for everyone."
While delivery is North Star's core business, the company is also expanding into what it calls integrated logistics solutions.
"What this means is that instead of sending products to us, we will go to our client's warehouse, or build it for them, and manage their logistics requirements," Mr Pichetpol said.
The goal is to create a one-stop service covering warehousing, billing, distribution and returns.
Clients of North Star's integrated services include drinks maker Osotspa and all nationwide branches of CP Fresh Mart.
"By leaving all distribution services to North Star, they don't have to worry about returning things themselves. So our clients can focus only what they are good at, such as marketing and production," Mr Pichetpol said.
North Star plans to expand into neighbouring countries in the next few years, and has formed cross-border links with Laos, Cambodia and Myanmar.
For example, proximity enables North Star to charge the Udon Thani rate for goods delivered to Vientiane in Laos. Moreover, the company has seized on the recent economic loosening in Myanmar, opening a sales office there.
But despite that country's potential, Mr Pichetpol points to problems such as a lack of infrastructure and IT support, plus road conditions that are less than ideal.
North Star's IT systems include vehicle tracking that lets the company see whether a vehicle arrived on time and a GPS program to pinpoint the location of each vehicle.
"Eventually, we hope to have a network of affiliated companies that will cover all of Asia, starting with Asean," Mr Pichetpol said.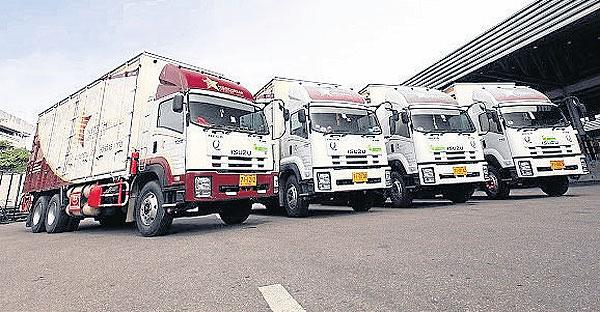 North Star's 250-vehicle fleet, which includes 10-wheelers, six-wheelers and onetonne pickup trucks, covers the whole of Thailand.