It is obvious that many businesses and sectors have begun to feel the pinch of the prolonged political impasse, which is likely to last for many more months. Among those affected, small and medium-sized enterprises (SMEs) are inevitably among the hardest hit.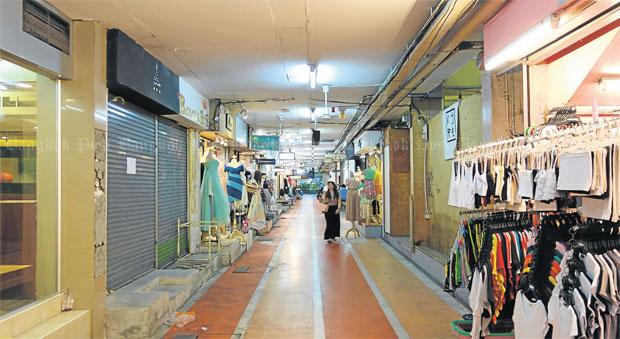 Many shops in the Siam Square shopping arcade have closed as the number of shoppers dropped in recent months. Nop Tephaval
Many shops, restaurants and IT stores in protest zones have been affected by the political conflicts and rallies that have killed the confidence of consumers. Tourism and the jewellery sector have also been affected. Amid the crisis, several banks have offered a helping hand.
Bitter taste at restaurants
Restaurants and shops around the Pathumwan protest sites have experienced a sharp drop in business of 50-70% in recent months, while many have resorted to online channels to increase sales.
Somchai Kanchana, a manager at Scala Shark Fin restaurant, said its number of customers had sharply dropped by 70% since the protest began on Jan 13. "Hardly any customers are coming into the restaurant, especially tourists," he said.
Next door, the Penang Shark Fin restaurant confirmed that the rallies have added more problems to operators who already faced difficulties after a rent increase by landlord Chulalongkorn University.
"Some shops in the area have already moved out since the rent was increased, but the protest has worsened the situation," the restaurant manager said.
Around the corner, Aek, a cloth shop owner, lamented that sales have decreased by 40% from between 8,000 and 10,000 baht per day to 3,000 baht at most. Now he is using an online channel, Instagram, to help boost sales.
Similarly, Nok, a shop owner in a Little Siam alley, said her business has been slow, with a big drop in sales. Typically, she would earn about 10,000 baht a day but now makes 2,000 baht at most on her best days.
"Some shops did try to locate their booths near the protest sites, but the products did not match the buyers well ? maybe in the beginning but not any more," said Nok, who is using her savings to keep her shop going.
Jo of Art & Gun Games, which electronic games, has seen a 70% drop in sales. "We have only regular customers who will leave right away after the purchase as they are worried about their safety," said the owner.
He has resorted to the internet and the Line application to try to improve sales. "I don't want to relocate the shop to somewhere else as I've been here for 10 years. So I need to endure it," he added.
IT shops face challenges
IT retailers are likely to continue to face challenges after at least 300 outlets closed down last year. Many IT outlets have relocated to cheaper locations, say leading IT stores.
Nath Natnithikarat, the chief executive of Advice Holding Group, an IT chain store, said if the political impasse continues until June, IT retail stores of more than 64 square metres will be hit hardest and cannot survive due to their high operating and inventory costs.
Large retail stores would not be affected, given their strong financial health and greater variety of products.
Sura Khanittaweekul, the chief executive of Com Seven Co, another IT retail chain store under Banana IT brand, said sales in the protest areas had dropped by 40%.
If the political uncertainty continues into mid-year, the overall IT retail market in Thailand excluding smartphones and tablets will likely see zero growth. Mr Sura suggests operators of IT shops expand upcountry while relocating staff to locations with high sales.
Gems lose their glitter
A recent survey by the Industrial Promotion Department confirmed that SMEs have been hit hard by the political strife. The hardest hit are those in the gem and jewellery sector and products under the One Tambon One Product (Otop) scheme.
The Thai Gem and Jewelry Traders Association said 10% of foreign visitors have already cancelled their visits to the 53rd Bangkok Gems & Jewelry Fair this month.
More than half of domestic sales in the industry are to foreign tourists, with the peak season from November-February. Tourists have changed their travel plans to other provinces, but most jewellery shops are located in Bangkok and neighbouring provinces that have faced extensive anti-government demonstrations.
About 70% of Otop products sales, especially gifts and souvenirs, are made from November-January, while fabrics and clothing are also affected.
Sales of electrical appliances and electronics have fallen by more than 30%, while sales of clothing in areas such as Pratunam Market and Platinum wholesale mall have plunged by more than 80%.
Banks lend helping hand
Vallop Vitanakorn, a vice-chairman of the Federation of Thai Industries, said he has asked commercial banks to extend loan periods for SMEs, as many are short of cash due to lower sales.
The shortage of cash flow can lead to bigger problems since SMEs are part of the supply chain of large companies, he warned.
SMEs have recently shown signs of late payments due to their ailing financial health caused by the political impasse.
Sayam Prasitsirikul, the head of SME banking at Bank of Ayudhya (BAY), said the delinquency rate, which classifies debt repayments overdue by 3-6 months, has been rising due to customers' liquidity crunch.
Some SME operators have recently requested financial assistance including additional credit lines, term-loan extensions or lower monthly repayments. The bank considers requests by troubled business operators on a case-by-case basis.
"The political impact is expected to go on for another 3-6 months, so we have closely monitored the market situation and controlled bad debt as discreetly as possible," Mr Sayam said.
From the start of this year, BAY has booked higher working capital loans in accordance with customers' demand by using short-term loans to support business liquidity rather than investment. Meanwhile, demand for term-loans for expansion has been slowing.
Mr Sayam said SMEs in the services and trading sectors, particularly hotels near rally sites, are seeking more liquidity to support their operations. BAY is paying more attention to risk management and prudential loan approval amid the tough situation.
Kasikornbank recently decided to deduct two percentage points from interest rates for customers in politically hit sectors such as tourism and hospitality.