Gullayanee "Kat" Jiamsinkul is the owner of Lucky Bunny Cafe Restaurant (Tue-Sun 10:30am-8pm, Lat Phrao 101 Yaek 28, 085-195-5465). She has turned one of her houses into a one-of-a-kind place that offers visitors playtime with cute rabbits, food and beverage as well as nice backdrops for photo-taking. A graduate from Assumption Commercial College, Kat has been a life-long entrepreneur, running an interior and landscaping design firm before deciding to open Lucky Bunny. Go to the cafe's Facebook page at goo.gl/4yaQnq for more information.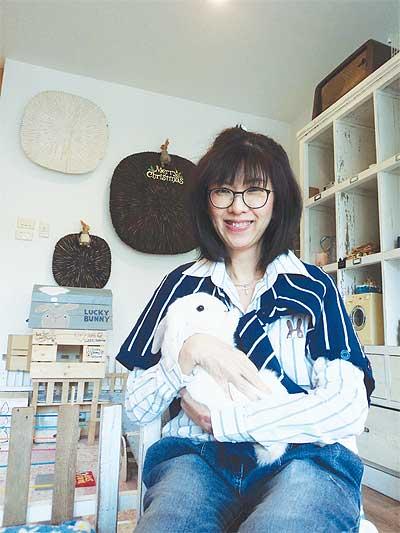 WHERE DID THE IDEA OF OPENING A RABBIT CAFE COME FROM?
My daughter had visited various cat cafes in Bangkok and one day suggested we open our own cafe since we already had the space. I agreed with the idea because I had wanted to keep rabbits as pets for years. However, I feared that raising them would be messy and I'm a very tidy person so we did a little research first. That week, we went to Chatuchak [Weekend Market] and stopped at different shops until we found one that wasn't smelly. After I learned how they kept the place clean, I decided to buy six rabbits to start the cafe with. We opened on Aug 9 and now have 22 bunnies. A veterinarian comes to check-up on our nongs every Monday.
HOW DOES LUCKY BUNNY CAFE WORK?
We ask for an entry fee of B150, which can be used to buy food and drink. The full menu features the likes of carbonara, tom yum goong, yum won sen and so on. After a meal, you can go into the garden to take photos or play with the bunnies inside. You can bring your bunny here so it can make new friends too. We don't put a limit on the time you can spend here. We sell houses for rabbits, dogs and cats. We also sell rabbits and make sure that we offer only healthy ones.
HOW HAS THE FEEDBACK BEEN SO FAR?
Animal lovers are still only a small percentage of my customers. Most visitors come to learn about us and are curious. We ask visitors to follow certain rules such as washing their hands before playing with the bunnies and not holding young bunnies. Some become annoyed by this but we want to make sure that our rabbits remain healthy. On the other hand, rabbit owners are very pleased with what we offer because we provide a community for rabbit lovers. I share with them the right information that I learned from veterinarians, rabbit farm owners as well as experienced rabbit owners. Moreover, we keep in touch with the owners and they can send us a message when their rabbits get ill so we can ask a vet for advice. I hope sharing our knowledge would help people raise their rabbits healthily as many still have misunderstandings about keeping rabbits as pet.
WHAT ARE SOME COMMON MISCONCEPTIONS ABOUT RAISING RABBITS?
Pulling rabbits' ears is a big no-no because it can cause permanent injury. Another common misunderstanding some rabbit owners have is that rabbits can be fed with pellets alone. Such behaviour could lead to health issues for the rabbits. They aren't hard to keep when you have the right information.
CAN RABBITS PERFORM TRICKS OTHER THAN BEING CUTE?
They can be trained to jump small fences, walk on two feet, buzz a call bell or jump through a hoop. Our customers can watch our demonstrations of rabbit tricks and teach their rabbits at home. I'm very happy when our customers say they have used what they learned here with their rabbits and it works. We don't hold back any information.
WHAT DO YOU WANT TO SAY TO POTENTIAL VISITORS TO YOUR CAFE?
First and foremost, it's a place for bunny lovers. If you want to buy a healthy rabbit and learn how to raise it correctly, we can definitely help you with that. G