Paralympics: Boccia team wins Thailand's third gold (Updated)
Like true champions, Thailand's mixed pair boccia team beat Japan in the gold medal round, overcoming severe disabilities to win the country's third gold of the Rio Paralympic Games
Please join us on our Facebook page http://www.facebook.com/bangkokpostlearning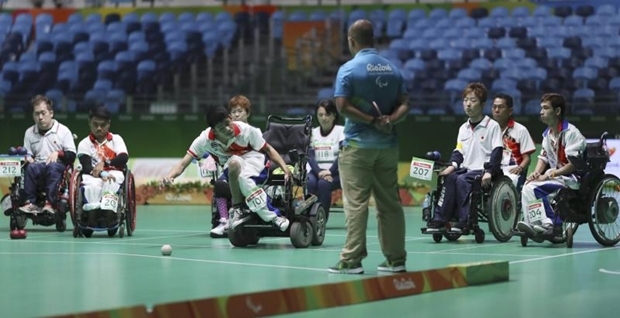 Pattaya Tadtong of Thailand (3rd L) competes against Japan enroute to Thailand's gold medal victory. REUTERS/Ueslei Marcelino
Tuesday morning update
Thailand won its 3rd gold medal in Rio conquering the BOCCIA - MIXED TEAM - BC1-2 final, after beating Japan 9-4. The men and women team members are Worawut Saengampa, Pattaya Tadtong, Subin Tipmanee, Watcharap Vongsa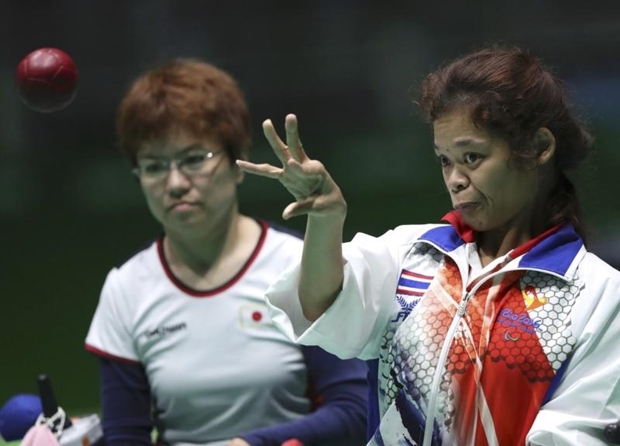 Thailand's Subin Tipmanee during the gold medal competition
Monday's story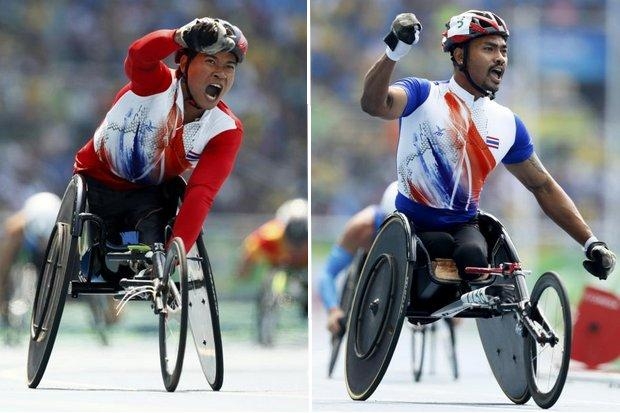 Pongsakorn Paeyo (left) and Prawat Wahoram celebrate their gold-medal victories in the T53 and T54 finals at the Paralympic Games in Rio de Janeiro. (Reuters photos)
Much to cheer about in Rio as Thais win gold
RIO DE JANEIRO Two Thai men won gold Sunday night within an hour of each other at the 2016 Paralympics.

Prawat Wahoram of Thailand won the gold medal in the 5,000-metre T54 event.

His win came shortly after fellow Thai Pongsakorn Paeyo celebrated winning the gold in the 400-metre T53 event.

With the Games now fully under way, Thai medals are expected to increase. On Sunday Rungoj Thainiyom took third place and the bronze medal in singles' table tennis.

The Paralympics website described Prawat's win in the 5,000 metre wheelchair race this way:

"The 10 finalists remained as a pack for much of the race, coasting around with no competitor seemingly willing to take the race on.

"Then with two laps to go Thai duo Rawat Tana and Wahoram took to the front, as Swiss star Marcel Hug pushed in to third on the outside.

"With 200m to go it was Wahoram who had the strongest acceleration, powering down the home straight with Hug unable to catch the leader. "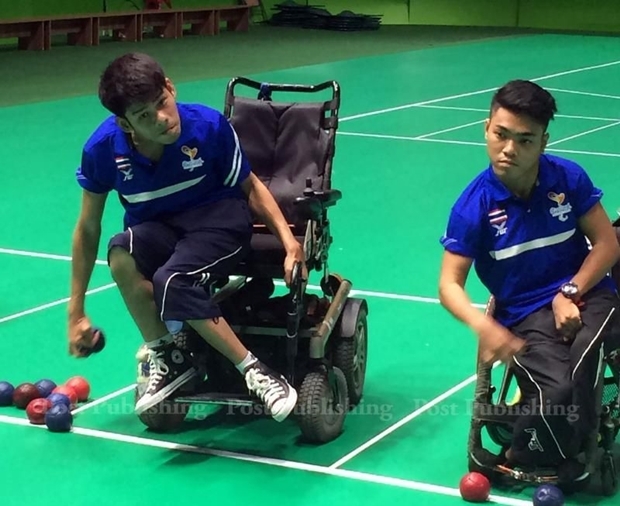 boccia champion Pattaya Tadtong, left, trains ahead of the Rio Paralympics.
Thai sports fans will fondly remember Pattaya Tadtong from the 2012 London Paralympics. Pattaya overcame cerebral palsy, a permanent disability that makes normal movements impossible, to become a gold medalist in the 2012 Paralympics in London

He will be in action today (Brazil time) as his team competes for the gold against Japan in the mixed team competition. To get to the final, the Thai team beat Great Britain 11-0 in the quarter-final and Argentina 14-1 in the semi-final.

From reports from our online reporters and other Paralympic sources.