TCG reaches out to very small businesses
The state-owned Thai Credit Guarantee Corporation (TCG) has initiated credit guarantees to very small businesses by earmarking 10 billion baht to back One Tambon One Product (Otop) and other community entrepreneurs and another 5 billion to microentrepreneurs in a bid to steer them away from loan sharks.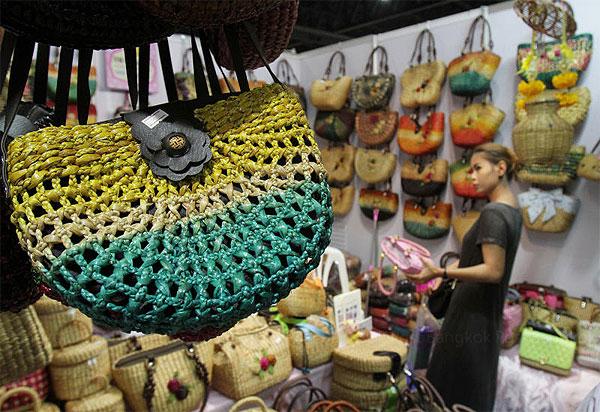 Handmade bags are among the popular products of the One Tambon One Product scheme. Otop operators and SME manufacturers now have a better opportunity to access financial resources. TAWATCHAI KHEMGUMNERD
The credit guarantees will be available until either December 2015 or the entire amount is approved and are available through 19 local and foreign financial institutions.
"This is the first time we've offered credit guarantees to grass-roots entrepreneurs, who are major drivers of the Thai economy. These include street and wet market vendors as well as microentrepreneurs who have clear operation locations," said president Vallobh Tejapaibul.
The TCG was incorporated with the aim of helping SMEs receive more credit or liquidity from financial institutions through its guarantee service.
Mr Vallobh said the TCG limited its guarantees to a maximum loan of 3 million baht each to Otop and community entrepreneurs registered with state agencies, with a seven-year term loan.
An annual credit guarantee fee will be exempted for the first year, but the charge will be 1.5% the following year.
Microentrepreneurs will receive credit guarantees for loans of up to 200,000 baht running a maximum of 10 years, he said, adding that the fee for this group was set at 1-3% of the credit guarantee amount.
There are 36,000 Otop and 72,000 community entrepreneurs.
A total of 71,700 Otop products are available in this country.
The TCG will take responsibility for up to 25% of the loans from Otop and community entrepreneurs should they turn sour and 50% for microentrepreneurs' guaranteed loans.
Typically, the TCG limits its responsibility to 18% of SME non-performing loans.
Senior executive vice-president Wichet Warakul said TCG eased rules by letting lenders claim for compensation if loans are classified as non-performing without waiting for the legal process, which should prod banks to lend to small businesses.
A Bank of Thailand source said the central bank had asked the junta to amend regulations so that bad debtors whose lenders neglected starting the legal process for a certain period would be removed from the National Credit Bureau's blacklist and allowed access to financial sources again.