Chamber hopes to stem furore
In an attempt to tackle labour problems and human trafficking allegations, businesses are urgently looking at ways to regulate the fishing industry including registering fishing boat operators and foreign worker recruitment brokers.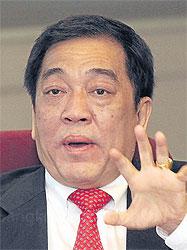 Poj: Labour shortage demands attention
Phumin Harinsut, vice-chairman of the Thai Chamber of Commerce (TCC), said although businesses expect a limited impact from the downgrade to the lowest level (Tier 3) in the "Trafficking in Persons" (TIP) report issued last month by the US State Department, the report damages the country's export image.
The report stated Thailand made inadequate efforts to enforce anti-human trafficking laws and corruption among authorities.
The Thai fishing industry is well known for its reliance on foreign labour.
"Because we rely on foreign labour the government and relevant private organisations need to team up to address the issue," Mr Phumin said.
"We desperately need to regulate all the fishing boats involved and have a centre to educate fishing boat operators and owners about the impact of forced labour."
Mr Phumin said the TCC had set up a special task force to study the labour issue intensively and map out action plans for all related parties to pursue, but he conceded it would take time.
Next Monday, the TCC is scheduled to present its study on how to overhaul the entire labour system to the Joint Standing Committee on Commerce, Industry and Banking.
It will then meet with the Joint Public-Private Consultative Committee on July 16.
Mr Phumin believes Thailand can remedy its Tier 3 listing in the next TIP report.
Poj Aramwattananont, chairman of the TCC's labour and human resources committee, said Thailand also faced a labour shortage.
"Thailand is now in serious trouble in several sectors," he said.
"We have a plan for the next five to 10 years to develop and upgrade our labour force so we don't have to rely on so many foreign workers."
He agrees with plans to register fishery workers at centres and improve inspection of fishing vessels to curb forced labour and reassure foreign consumers.
Mr Poj, who is also president of the Thai Frozen Foods Association, called on the government to support credit lines for small and medium-sized enterprises to modernise their operations, reducing the need for labour, as well as campaign for better understanding about the importance of labour to the country's economic development and business growth.
The government is being urged to accelerate regulation of recruitment brokerages, as Mr Poj said a number of illegal brokers had caused trouble for Thai factories and foreign workers by luring them with promises of work at renowned Thai factories, only to switch their story when the migrants arrived.
"The TCC must register brokers both in Thailand and abroad in order to enforce clear and fair brokerage fees," he said.
"Industry classification of these brokers such as textiles, processed farm products or fisheries and seafood is needed to ensure Thai factories employ the right skilled workers."