When it comes to fashion, big cities such as Paris, London, Tokyo or New York might come to mind. But when it comes to design, Milan is the place people are thinking of the most. The successful Salone Internazionale del Mobile, or Milan Fair, an annual ?must attend? international event for professional designers and design enthusiasts is one proven record.
Milan Fair is regarded as one of the world's most reputable design events held annually since 1961. The fair encompasses one major event and more than 100 smaller events held simultaneously throughout the city. The major event occupies a total of 24 halls at Rho Fiera, a prominent indoor and outdoor exhibition centre, and attracts more than 300,000 visitors every year.
The week-long Milan Fair last month ignited the city into party mode, welcoming over 2,500 representative exhibitions of furniture and fittings, home interiors and accessories as well as many other special features led by signature makers and premium brands. The fair heralded a tidal wave of new concepts and products. Architects, landscapers, engineers, residential developers, real estate businessmen, students and a host of media from around the world rubbed shoulders to spot the next great trends. They were also there to network and do business as well as meet old friends and make new ones.
Spotted rubbing shoulders with a throng of international visitors at the fair was Manu Trakulwattanakit, executive vice-president of Project Management and Product Development Department, and the Design Solution Department at Sansiri, one of Thailand's leading residential developers.
"I take my team to Milan Fair every year," says Manu, himself an architect with more than 25 years of professional experience on numerous residential projects of all sizes. "I also take them to other international shows such as the International Furniture Fair Singapore, Maison & Objet Paris, 100% Design London and Imm Cologne."
The International Furniture Fair Singapore is regarded by industry experts as Asia's premier sourcing platform and design-led exhibition. Maison & Object Paris is the international design showcase dedicated to lifestyle, decoration and design. 100% Design London is the UK's largest design trade event attracting more than 27,000 visitors. Imm Cologne is Germany's international interiors show setting trends that shape furniture and interior design products.
"It is important for me to keep updating myself with the latest design trends and innovations from around the world," adds Manu. "Me and my team, we never stop exercising our brains to come up with new design ideas that will help us improve our residential property projects."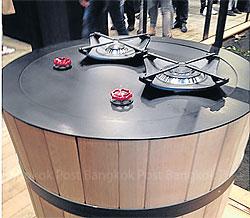 A lot of design attention has been paid to interior surfaces including kitchen worktops.
Materials play a big role in home interiors at this year's Milan Fair. Timeless solid wood and timber, marble and basalt stone were used in an innovative approach to showcase their natural beauty. The eco concept still continues with the use of reclaimed and recycled materials in the design of functional furniture pieces, especially chairs and stools. Brass details and lighting are combined to regain a classic look. Shades such as terracotta, mud, soft blue, coral and violet were spotted all around.
For kitchens, emphasis is placed on quality of life — viewing the room as the heart of the home, a functional space to spend time with loved ones and nurture well-being. So, a lot of design attention has been paid to interior surfaces including kitchen worktops and storage spaces that allow greater functionality for the whole family. Smart features such as touch-to-open or folded cabinet doors are incorporated into the design to add convenience. Cabinets and appliances are slotted into purpose-built voids.
"Right now, the residential development industry in Thailand has reached a new height where good design plays a crucial role in the purchase decision, especially among the new Dinks [double income, no kids] generation," he explains.
"From our research, we found that such families do not require a lot of space, but appreciate intelligently designed homes which allow them to live more comfortably. These people are open to new ideas. They appreciate flexible home designs that can be adapted for various uses. Their lives are more fast-paced than previous generations.
"Visits to all these international design fairs allows residential developers to gather fresh ideas," he adds. "At Sansiri, we use them to continue our work with teams of contractors, engineers, architects, interior designers, landscapers and leading furniture-makers to come up with the proper form, fit and function from inside and out, in order to build a place for tenants to live in with pride and lasting contentment."
MINIMALIST AND L-SHAPE
The research also revealed that minimalist and L-shape residential designs are most preferred by Dinks.
The term "minimalist" is a design that is stripped to its bare essentials without any unnecessary details, yet still commands great appeal to the eyes and has all the required and expected functions.
"This has resulted in the minimalist design elements in various parts of our projects paying much attention to detail and careful selection of materials — all to create residential developments that meet the demand of new-generation consumers who appreciate simplistic, minimalistic designs that are also appealing and distinctive," adds Manu.
The unique L-shape is a design concept that breaks new ground in residential design. In traditional space planning, a house is normally placed in the middle of a land plot, leaving small, narrow spaces in all directions of the house. These spaces are hardly ever used and do not generate much benefit for the house. With the innovative L-shape design, the service area, which is normally placed at the back in most conventional houses, is moved to the front, creating an opportunity for the owner to make the best use of a more private open area at the back or turn it into a courtyard which will give the home a more interesting area.
"An understanding of the ever-changing lifestyle of the new generation is equally important. So, in addition to the design of residential projects, we also place importance on designing other products that complement the modern urban lifestyle," he explains.
One of his examples is the wardrobe design, explaining that the new generation tend to value their appearance in public. However, the size of most urban homes is getting smaller so they appreciate furniture that can serve multiple functions. Sansiri's Design Solution Department has come up with a wardrobe with special hooks installed beside it, allowing users to hang their clothes neatly beside the wardrobe.
The wardrobe doors are kept plain and minimalistic with a hole that serves as the door opener in the middle. This beautiful, simplistic design allows users to open and close the wardrobe with ease. This innovative design work has earned Sansiri the prestigious Design Excellent Award (DEmark 2012) in the furniture category from the Ministry of Commerce's Department of International Trade Promotion.
"For 2014-2015, new Sansiri projects both in Bangkok and upcountry will be based on the two new approaches of minimalist and L-shape designs. These projects will be holistically designed from the ground up to ensure design consistency all the way through from architectural structure to home design and onto furniture, function and other various aspects," he explains.
"Residential developers today cannot stay still and rely on their past glory or same old marketing style to attract tenants. Today's tenants are more demanding and much smarter about design. They expect no less than the highest quality and impeccable taste," concludes vice-president Manu.