To be a successful fashion designer, one may think you need to have attended a famous design school or have experience in making clothes but not Anchalee Vikasidnakhakun, owner of the Anchavika label. Her achievements have broken all conventional rules.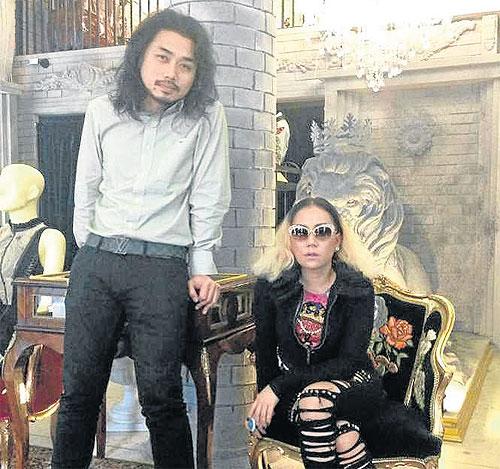 Anchalee Vikasidnakhakun, owner of Anchavika fashion brand, with her husband Yutthana.
Before entering the fashion world, she ran her Tha Siam noodle shop franchise for more than a decade. The chain is popular with more than 25 branches in Bangkok.
In 2008, Ms Anchalee, who has a strong passion for fashion, wanted to do something about fashion beyond spending several hundred thousand baht a month on clothes. She decided to hire her own live-in tailors to produce clothes for sale and that was her start as designer.
''I decided to make clothes for my children and received a lot of compliments from Thais and foreigners. So, I thought why shouldn't I start up my own brand,'' she said.
She introduced her first collection in 2011 under the Anchavika label and sold it at her showroom in Thonglor. A few months later, she got approval to sell her clothes at a shop-in-shop at Central Chidlom.
In the first month, sales reached 300,000 baht and gradually climbed to 850,000 baht a month. The figure is expected to exceed 1 million in the near future.
After gaining a strong customer base, she began offering special fashion lines that cannot be found elsewhere at her Thonglor showroom while the Central Chidlom outlet has her new collections.
Anchavika usually makes two new collections a year and each collection contains about 60 designs with each design comprising 100 pieces. Prices range from 6,000-15,000 baht for general clothing and 30,000 baht for an evening dress.
The Anchavika shop-in-shop at Central Chidlom will be moved to the same area with other Thai designers on March 25.
Ms Anchalee said the secret of success
is her love of dressing up since she was young. Furthermore, with no fashion design background, she can think out of the box.
Italy's Roberto Cavalli, the late British fashion designer Alexander McQueen and France's Jean Paul Gaultier are her idols.
She introduced her collections through her fashion show without any credit from the brand. When a product is not well received, Ms Anchavika can evaluate whether it has real demand or not.
''I got better-than-expected response from customers because of uniqueness. Without any background and experience in fashion, I create my clothing from my passion and each collection reflects my personality,'' she said.
Her next fashion show is at Central Chidlom on March 19, introducing Anchavika's Princess of Art collection for spring-summer 2014.
Target customers are those with their own unique taste who do not follow fashion trends.
While Ms Anchalee is responsible for product design, her husband Yutthana focuses on store design and graphics. All Anchivika items are made by her own dressmakers.
Currently there are 20 dressmakers, up from only two during first two years of her fashion start-up. As Ms Anchalee plans to branch out her fashion business abroad, she will double the number of tailors to 40 in the coming months.