A businessman with a heart
For cool, calm and collected Kittisak Pattamasaevi, working for the family hotel business in Phuket offered him a golden opportunity to make a mark for himself in the highly competitive service industry on the island.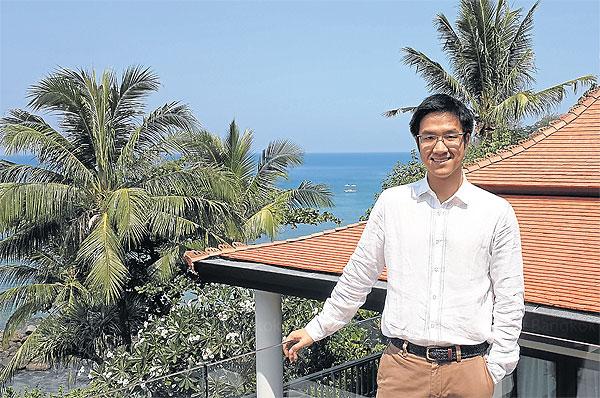 Kittisak Pattamasaevi is making a niche for himself in the highly competitive tourism industry in Phuket.
The Montara Hospitality Group was set up in 1999 by his father Narong, a self-made businessman who worked in the finance sector. The Pattamasaevi clan owns and manages the luxury boutique resort Trisara in Thalang and the iconic Boathouse on Kata Beach.
The 27-year-old vice-president of Montara's sales and marketing spoke about his decision to work for the family business. "I always knew that I would like to work in the family business, or at least set up my own company and not be an employee all my life.
"The pressure for me to join the family business was more my own decision than anyone else's. I initially went into finance, working largely in investment banking and private equity, with the expectation that the experience would eventually hone my analytical and human relationship skills before I became my own boss.
"After two years of working in finance, Montara was looking to acquire a hotel in Phuket and I thought it was perfect timing to use what I know to help with the family business. The rest is history. My background in finance has been beneficial in the analytical side of how to deal with properties' allocation of assets and liabilities and return investment."
While Kittisak, who has worked with the family business for a year-and-a-half, was given a free hand by his parents to study his choice of subjects at university, the young man's decision to study finance was largely influenced by his father, who was his role model. It was inevitable therefore, that Kittisak would major in financial engineering.
He later decided to study for an MBA in marketing and real estate at Harvard Business School hoping it would help in bolstering the internal competency within the sales and marketing department of the family business.
Being the owner's son means having to prove one's worth within the company, and Kittisak admits that he had his own personal struggles to overcome before he could truly feel comfortable managing his subordinates.
He explains, "The challenges of working for the family business is all about hitting the right balance so outsiders will deem you as being capable and professional. While it is great that you have direct access to decision-makers within the company, especially when you happen to be working on a really important project that requires immediate action, the flipside is to conduct yourself in a manner that will not jeopardise your credibility or that of the company.
"The senior staff I work with are people that have known me since I was young. Even before I joined the company, I used to help take minutes at the meetings. One of the biggest hurdles I had to overcome was proving my worth as a professional. I did not want them to be forced to entertain my ideas just because I was the son of the owner."
Studying for an MBA at Harvard, for starters, gave him credibility that he was the man for the job, he says, stamping an external validation that he could contribute as a professional to the company. Being humble and respectful also earned him points with co-workers.
Managing and convincing senior staff to go along with his ideas have not always been smooth sailing. Relating how he approached one encounter, Kittisak said, "As the hotel industry in Phuket is seasonal in terms of occupancy, often dipping to its lowest in September, sometimes drastic measures have to be implemented to guarantee some form of return.
"When occupancy goes below 30%, hotels start to lose money, so a couple of months before September, we forecast that it will probably be a very tough year, so I proposed to the hotel management a promotional deal that would affect the rate of the rooms.
"I was met with a lot of resistance by senior staff, who also had valid reason to oppose my suggestion. I tried to convince them that if we dropped the rates, we could gain enough occupancy and eventually we would be able to make up for it because it was a short-term promotion.
"I spoke one-on-one with the hotel manager, explaining why my proposal was necessary and stressed the need to have his support because he was a key player in the success of our hotel. While I respected his viewpoint, I patiently shared why we should try the tactic I had proposed. I had to make him understand the role he had to play in this initiative. Eventually, he agreed to support me. While it was a tough month for us, at least we did not lose money."
The Montara Group's initiative to establish the Trisara Academy — a hospitality learning institute to train individuals in the fine art of service and hospitality — later this year is also a drive that he hopes will reap rich dividends in helping build the Thai hospitality sector to become more competitive for the upcoming Asean Economic Community (AEC).
Much of what Kittisak holds in high esteem today is a reflection of what his parents have taught him. At an early age, his father instilled in him the importance of education, saying "education is a how a person can reach one's full potential in life", while his mother, who is active in many charities taught him the importance of living a self-sufficient life. They have both contributed in making Kittisak a businessman who wears his heart on his sleeve.