Demure satellite engineer Pirada Techavijit is in seventh heaven since being selected to become the first Thai to travel into space after winning the global campaign ?Axe Apollo Project? for Thailand, earlier this year.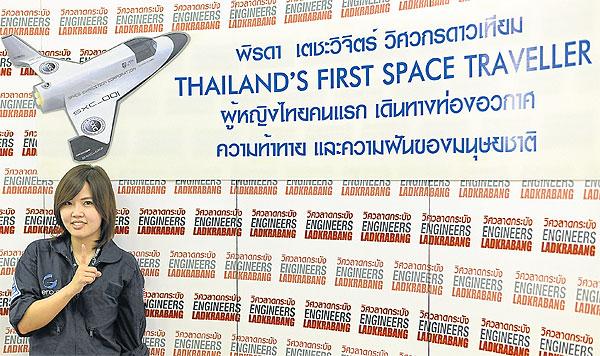 The quick-witted engineer has always been highly motivated to reach her goals in life, and in this case, perseverance paid off dividends when she won the TV programme, Fanpantae Apollo 2013 (True Fan Of Apollo 2013), which gave her, and two runner-ups, the opportunity to vie for the coveted spot of being chosen to be taken into space on the Lynx Mark II sub-orbital spacecraft.
Needless to say, her well-rounded knowledge on space science and confident personality caught the eyes of the judges, and she was chosen to represent Thailand on the space journey, which is slated for next year in Mohaway, California. Pirada will be allotted six minutes to explore the environs of space.
The 30-year-old is now waiting with bated breath to prepare for the life-altering journey, which will include training in the US.
"While I am super excited about what lies ahead of me, the realisation is yet to hit home," said Lampang-born Pirada, who has worked for Geo-Informatics and Space Technology Development Agency (GISTDA) for five years.
"Space has always had a supernatural beauty about it. However, the desire for me to reach this goal peaked when I first heard an astronaut call from a space station at a seminar I was attending. I heard him speak with us over the intercom, and this encounter left me with not just a big impression, but also reignited my desire to do everything in my power to reach my aspirations of going into space. My faith in God and encouragement from family and friends kept me focused all along."
Pirada, one of 23 winners from 62 countries, had to pass a tough one-year test to qualify, including physical, mental and written examinations to determine her readiness. Her path to reach her goal has been strewn with challenges and sacrifices.
Through sheer perseverance Pirada has proven that dreams can see the light of day, if one is passionate enough to make the sacrifices. After returning with a specialised master degree in embedded systems from Toulouse, France, the petite Thai trained expeditiously to insure victory on Fanpantae Apollo 2013, which booked her a place at the Axe Apollo Project.
Prior to being recruited, she trained at the Thai Air Force, where she was tested for her physical and mental readiness. In a week, she was taught how to manage herself in a weightless environment, resembling simulated space conditions. During the encampment period at the National Space Camp in Orlando, Florida, Pirada was introduced to a handful of influential personalities. American astronaut Edwin "Buzz" Aldrin, who made history as the second man to walk on the Moon in 1969, after Neil Armstrong, spacecraft technicians and officials from the Space Expedition Corporation.
Explaining what she thought was the reason judges picked her, Pirada said: "While the judging criteria hinged largely on courage, alertness and teamwork, I believe I was chosen for my knowledge in engineering, there was a whole lot of focus on this aspect on our written tests. The other two Thai candidates had little knowledge of engineering and that gave me an advantage over them."
Pirada, who has a long list of activities she would like to conduct during her six minutes in space, said if she is to narrow it down, it would be to bring the Thai flag, His Majesty the King's photo, Thai food and to conduct medical experiments if time permitted.
As the clock ticks closer to the day she leaves, the space science buff hopes to keep physically and mentally fit to prepare herself for the expedition, and hopes this experience will inspire others to follow their dreams.
Pirada said, "I would use this opportunity to build strong network connections in the field of space science that would help benefit Thailand in the long run. I would like to take this opportunity to highlight the honour Thailand has in hosting the International Reference Ionosphere 2015 conference, which brings together delegates from more than 20 countries.
"The event will be held at King Mongkut's Institute of Technology Ladkrabang. Thais should be encouraged to study space science."